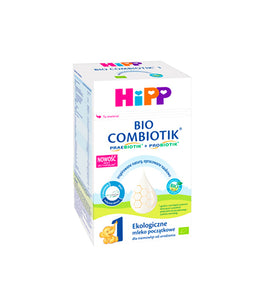 HiPP 1 Combiotik ® - organic milk from the first days baby's life
Mother's milk contains the most valuable ingredients that support the healthy development and immunity of babies in the first months of their lives. If for some reason your baby cannot be breastfed, choose the milk which is the most similar to that of the mother's.
Using the latest research about breast milk, a team of HiPP experts and scientists specializing in infant nutrition has created an organic HiPP 1 Combiotik ®.
This milk contains a special combination of ingredients, modeled after mother's milk, so that the baby will receive everything that is important and necessary for healthy development.
Why we like HiPP 1 Combiotik ® ? - It has a unique combination of scientifically tested ingredients:
PRAEBIOTIK® - Valuable dietary fiber (GOS-galacto-oligosaccharides from lactose) - created based on the model of nature.
PROBIOTIK® - Natural lactic acid bacteria cultures - originally derived from breast milk.
LC PUFA: ARA and DHA (Omega 6 and 3 long-chain polyunsaturated fatty acids) - especially important in the early months of life, because the baby's body does not produce them on its own.
Vitamins necessary to strengthen the child's immunity.
Contains only lactose  - milk can be given as much and as often as your baby requests it.
The HiPP BIO mark is a guarantee of over 260 inspections of each product and 60 years of experience in organic farming.
HiPP 1 Combiotik ® is produced according to standards significantly exceeding the legal requirements specified for modified milk. The ingredients come from organic farming and are strictly controlled at every stage of milk production.
Ingredients:
Ingredients: skim milk * , * whey with milk partially demineralized powder, vegetable oils * (palm **** * rapeseed, sunflower *), lactose * galactooligosaccharides from lactose , whey protein from, potassium citrate, potassium chloride, calcium chloride, a mixture of oils with LC PUFA ** ( fish oil, vegetable oil from M. alpina), L-phenylalanine, sodium citrate, calcium carbonate, magnesium sulfate, calcium orthophosphate, vitamin C, L-tryptophan, ferrous sulfate, natural lactic acid bacteria cultures (Lactobacillus fermentum hereditum ***), sulfate zinc, stabilizer - lactic acid, vitamin A, inositol, pantothenic acid, niacin, copper sulfate, vitamin B1, vitamin B6, potassium iodate, vitamin E, manganese sulfate, folic acid, vitamin K, sodium selenate, vitamin D, vitamin B2, biotin, vitamin B12,
* from organic farming,
** LC PUFA = long-chain polyunsaturated fatty acids,
**** palm oil from sustainable organic crops, certified by independent control units
Certified organic by EU standards
Box design and language may vary depending on the country of origin
NOTE: We recommend always having at least 4 boxes on hand.
This baby formula is not expired – the expiration date is 04/04/2025
Environmentally friendly packaging:
Lower carbon dioxide emissions - compared to a metal can
The individual packaging elements can be recycled separately
Printing inks based on vegetable oils - no mineral oils!
A box made of paper from sustainable sources