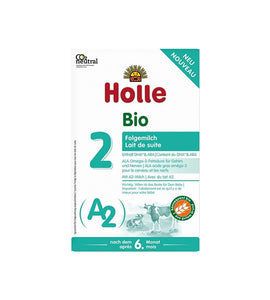 HOLLE 2 Organic A2 MILK
Holle 2 Organic A2 Milk Baby Formula is a great alternative to babies instead of regular cow's milk. A2 may be gentler on the stomach and cause less digestive discomfort. Holle A2 Stage 2 is intended for babies from 6 months of age. It contains all the important nutrients that strict European regulations require to keep your baby growing happy and healthy. Holle's goal is to create a formula that is as close as possible to breast milk.
Cow's milk is made of two main types of protein: casein and whey. Casein makes up about 80% of the protein structure. There are several different types of casein, the two most common of which are beta-casein A1 and A2. The body digests them differently, and A1 is considered more difficult to digest, leading to potentially more digestive discomfort.
A2 milk is great because, like breast milk or goat milk, it does not contain A1 beta-casein protein, but instead contains mainly A2 protein, which comes from specially selected cows that only produce A2 beta-casein protein.
Holle A2 Infant Formula, which is made exclusively from A2 cows' milk, it can be an alternative to existing Holle infant milk products if the mother is unable to breastfeed or if additional feeding is required. Cow and goat milk tastes different, and this may be one of the main reasons parents do not want to switch to Holle goat milk baby products. In response, Holle now offers A2 milk as an alternative to standard cow's milk products, as it is particularly well tolerated by infants and children with a sensitive digestive system.
HOLLE 2 Organic A2 MILK BABY FORMULA:
Contains DHA an omega-3 fatty acid essential for brain development, improved heart health, better vision, and reduced inflammatory response.
Appropriate from 6-10 months of age
Can Be Used with Holle porridges
Contains Complex of Essential Nutrients
Excellent, Natural Taste
Gluten-Free, Free of Added Sugars and NO GMO
Demeter Certified- The Strictest Criteria for bio-dynamic farming. No place for any chemicals or growth accelerators.
INGREDIENTS:
Skim Milk A2 * 1, Whey Product * (Partially Demineralized Whey Powder *), Vegetable Oils * (Palm * 2, Rapeseed Oil *, Sunflower Oil *), Maltodextrin *, Starch *, L-Tyrosine, Potassium Chloride, Fish Oil , M. Alpina oil **, calcium chloride, magnesium chloride, calcium carbonate, calcium hydroxide, L-tryptophan, sodium chloride, iron lactate, vitamin C, zinc sulfate, copper sulfate, vitamin E, niacin, pantothenic acid, vitamin B1, Vitamin A, Vitamin B6, Manganese Sulphate, Potassium Iodate, Folic Acid, Sodium Selenate, Vitamin K, Vitamin D, Biotin, Vitamin B12
* From organic farming
** contains milk
¹ 100 g of baby milk powder are made from 202 ml of skim milk
² from sustainable agriculture
³ contains DHA (required by law for follow-on formulas)
NUTRITIONAL VALUE :
Nutritional value in 100 ml of consumed liquid: Energy value (280 kJ / 67 kcal) / Fat 3.4 g /Saturated fatty acids 1g / Monounsaturated fatty acids 1.9g / Polyunsaturated fatty acids 0.6g / Linoleic acid 523mg / α - linolenic acid 51mg /DHA 14,5 mg /ARA 14,5mg /Carbohydrates 7.7g /Sugar 5g /Lactose 5g /Protein 1.3g / Starch 0.7g / Vitamin A 49.8 µg RE / Vitamin D 1.7 µg / Vitamin E 1.2 mg / Vitamin K 7.8µg / Vitamin C 15 mg / Thiamin 0.095mg / Riboflavin 0.19mg /Niacin 0.51 mg /Vitamin B6 0.068 mg /Folic acid 14.8µg /Folate 24.6μg DFE /Vitamin B12 0.16µg /Biotin 1.5µg /Pantothenic acid 0.68mg /Potassium 67.8mg /Chloride 47.8mg / Calcium 51.6mg / Phosphorus 32,1mg / Magnesium 7.79mg / Iron 0.95mg /Zinc 0.45mg /Copper 0.051mg / Manganese 0,012mg / Fluorides 0,0053mg / Selenium 2.6μg / Iodine 15,2µg /Sodium 19mg.
One 400g BOX of HOLLE 2 Organic A2 Milk:
makes about 30 100ml meals.
NOTE: We recommend always having at least 3-4 boxes on hand.
This baby formula is not expired – the expiration date is 12/13/2023