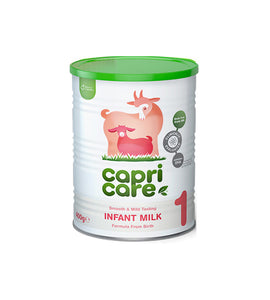 WHY CAPRICARE ?
New Zealand Dairy Goat Co-operative Ltd (DGC) was The First in The World to create baby food products based on goat milk in 1988. DGC's CAPRICARE combines the results of recent scientific research with the latest technology of whole milk processing and use. All this to provide a product that preserves the natural nutritional properties of goat's milk.
CAPRICARE 1 Organic GOAT MILK
Is exceptional quality complete infant formula for babies from birth who, for various reasons, cannot be breastfed. It is a natural alternative to the popular, highly processed mixtures based on cow's milk. Created on the basis of the natural qualities of whole goat's milk, it is fortified with the necessary vitamins, minerals and nutrients. Produced for over 20 years in New Zealand from the local fresh goat milk.
CAPRICARE 1 Organic GOAT'S MILK :
NATURALLY FULL OF PREBIOTICS with eight times more than cows' milk! Because of its unique protein structure, it also contains lower levels of a common milk allergen alpha S1-casein.
Because of UNIQUE PROTEIN structure, it also contains lower levels of a common milk allergen alpha S1-casein.
PRESERVES THE NATURAL GOODNESS of milk fat, one of the essential nutrients in breastmilk. This means the formula naturally contain milk fat globule membrane and sn-2 palmitic acid.
THE JOY OF FEEDING - Capricare Baby Formula is gentle on the stomach and is a delicate tasting formula based on the natural goodness of whole goat milk.
CAPRICARE PRODUCTS - are the result of over 20 years of research into the use of goat's milk in infant nutrition.
DOES NOT contain palm oil, soy and maltodextrin.
INGREDIENTS:
Pasteurized whole goat milk, lactose (from milk), vegetable oils (high oleic sunflower oil, rapeseed oil, sunflower oil, antioxidants (sunflower lecithin, mixture of tocopherols)), pasteurized powdered goat milk, mineral salts (calcium citrate, sodium citrate, calcium hydroxide , ferrous sulfate, potassium chloride, zinc sulfate, copper sulfate, manganese sulfate, potassium iodide, sodium selenite), vitamins (L-ascorbic acid, DL-alpha-tocopheryl acetate, nicotinamide, retinol acetate, holecalciferol, calcium D-panthothenate, phylloquinone , cyanocobalamin, thiamine hydrochloride, riboflavin, pyridoxine hydrochloride, folic acid, D-biotin), choline chloride, L-tryptophan, L-isoleucine, taurine, L-carnitine.
NUTRITIONAL VALUE (​​per 100 g):
The energy value is 2035/486 kJ / kcal Fat 21.5 g - saturated fatty acids 7.2 g Carbohydrates 58.8 g - sugars 41.3 g Protein 13.5 g Salt 0.5 g Sodium 0.2 mg
NOTE: We recommend always having at least 3 boxes on hand.
This baby formula is not expired – the expiration date is 9/12/24