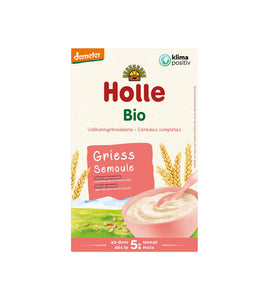 HOLLE  Organic Semolina Porridge
A Happy Toddler is one who feels inner peace. The Whole Grain Wheat porridge has very positive effects on the well-being of your baby's body. This is thank to the full milling process where the whole grains are used together with the embryo and outer layers and allow to preserve valuable ingredients such as protein, carbohydrates, fats, vitamins and minerals.
It is a Wholesome and Filling Meal which can also be used as a Light and Nutritious overnight snack.
Natural Energy provided for your toddler thanks to no added sugars..
Great Taste both on its own and with the addition of fruit. It should definitely be on the shelf of every parent who cares about the healthy nutrition of their child.
HOLLE Organic Semolina Porridge
Appropriate for children over 5 months of age.
Made from Wholegrain Wheat  Flour.
Wheat is a great source of Vitamin B1.
Can be served both with milk and with water, hot or cold.
Delicate and Easy to Chew.
Perfect Wholesome meal to help with first attempts to eat with a spoon:).
Ideal for a good morning and a quiet night meal.
Dairy Free.
Great Source of Energy.
Free of Added sugar, Preservatives, Artificial Colors and Flavors.
Organic Farming product - Demeter Certified - The Strictest Criteria for bio-dynamic farming.
ORGANIC, Strictly Controlled INGREDIENTS:
Whole grain Demeter wheat flour*, Thiamin (Vitamin B1- required by EU law).
* from bio-dynamic farming (Demeter Certified).
NUTRITIONAL VALUES : (in 100g) :
Energy value in 100 g: 1536 kJ / 363 kcal - 2.1 g fat, - of which saturated fatty acids 0.5g / carbohydrates 69.6 g, - including sugar  1.5 g / fiber 11.9g / protein 10g / salt 0.007g / sodium 0.003 g / Thiamine 1g (Vitamin B1 -required by EU law). *contain
ONLY
naturally occurring sugars.
There is About 10 Servings in a Package
Expiration Date: 09/08/2023