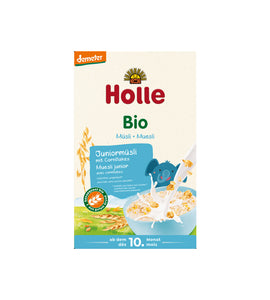 HOLLE Organic Junior Muesli Multigrain with Cornflakes
A
Dairy-free
  combination of oats and cornflakes with wholemeal spelt flour to give muesli a unique taste. 
A Wholesome, Filling Breakfast easily digestible in the phase of introducing solid foods in baby's diet from 10 months of age.
Made of Carefully selected Highest Ecological Quality Ingredients from organic and bio-dynamic farming.
The composition of the muesli porridge is supplemented only with valuable vitamin B1 (thiamine) in accordance with the latest recommendations of pediatricians.
HOLLE Organic Junior Muesli Multigrain with Cornflakes
Appropriate Muesli type porridge for children from 10 months of age.
Made from Organic Whole Grains.
Very Easy to prepare. Immediately ready to eat - just mix it with warm water, milk, or baby formula.
Delicate and Easy to Chew.
Can Be used on a Lactose-Free and Dairy-Free Diet.
Free of Added sugar, Preservatives, Artificial Colors and Flavors.
Demeter certified - The Strictest Criteria for bio-dynamic and organic farming.
ORGANIC, Strictly Controlled INGREDIENTS:
demeter rolled oats* 55 %, demeter cornflakes* 25%, demeter spelt porridge* 20 %, 10%, thiamine (vitamin B1 - required by EU law).
*from bio-dynamic agriculture
NUTRITIONAL VALUES : (in 100g) :
energy value 1526kJ / 361kcal, / fats 4.7g (including saturated fatty acids 1.0g) /carbohydrates 65.2g (including sugar 1.1g*) / fiber  8.0g / protein 10.6g / thiamin 1.500 mg / sodium 0.007 g.
*contains
ONLY
naturally occurring sugars
There is About 10 Servings in a Package
Expiration Date: 01/01/2024