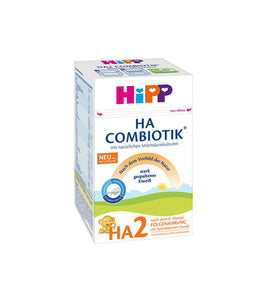 WHY CHOOSE HiPP HA 2 COMBIOTIC ?
For 50 years HiPP has been caring for the youngest children in the production of the highest quality modified milk. The HiPP milk recipe was created based on the results of scientific research, so that your child receives everything necessary for healthy development.
HiPP HA 2 COMBIOTIC is the latest generation of milk, adapted to the specific nutritional requirements of infants at risk of allergy. By using hydrolyzed protein and a unique composition of ingredients, following the example of nature, HiPP sets a new standard in infant nutrition.
WHY USE HiPP HA 2 COMBIOTIC ?
Cow's milk protein can be a critical factor in triggering allergies. In HiPP HA2 Hypoallergenic Baby Formula milk proteins are split into simple molecules, completely hydrolyzed and subjected to ultrafiltration. In the result baby's body tolerates the food better and the risk of allergies is lower.
HiPP HA2 Hypoallergenic Baby Formula is suitable for babies after 6 months of age.
HiPP HA 2 COMBIOTIC contains all the necessary ingredients that support healthy development of children:
Praebiotic - Valuable dietary fiber (GOS *) - modeled on nature * GOS - lactose galactooligosaccharides.
Probiotic - Natural lactic acid bacteria cultures - originally derived from mother's breast milk.
Alpha-linolenic acid (ALA) * from the Omega-3 group - for brain and nerve cells development.
Vitamins A *, C * and D *for the proper functioning of the immune system.
Natural source of folates - Metafolin® It is an improved, more easily absorbed form of folic acid, modeled on breast milk - it supports the work of the nervous system and brain, and also has a positive effect on the production of red blood cells, preventing anemia. It also supports the processes of division and proper cell growth, so it is an essential factor for the healthy development of a child.
* according to legal regulations
Ingredients: Lactose , vegetable oils (palm *, rapeseed, sunflower), starch, hydrolyzed milk whey protein , lactose galacto-oligosaccharides, calcium orthophosphate, potassium chloride, emulsifier: mono and diglycerides of fatty acid esterified with citric acid, L-tyrosine, potassium hydroxide, sodium hydroxide, calcium citrate, vitamin C, magnesium carbonate, potassium citrate, magnesium sulfate, L-tryptophan, calcium carbonate, iron sulfate, zinc sulfate, natural cultures of lactic acid bacteria (Lactobacillus fermentum hereditum **), pantothenic acid, vitamin A, niacin, copper sulfate, vitamin E, vitamin B1, vitamin B2, vitamin B6, potassium iodate, folic acid, vitamin K , sodium selenate, biotin, vitamin D, vitamin B12,
* palm oil from sustainable crops, certified by independent control units
** Lactobacillus fermentum CECT5716

Certified organic by EU standards

NOTE: We recommend always having at least 4 boxes on hand.

INFO: All HiPP Baby Formulas are MADE in Germany, The labeling MAY be DIFFERENT for each country to which it is being distributed.

This baby formula is not expired – the expiration date is 05/11/2023