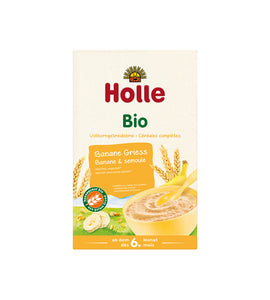 HOLLE Organic Fruit Porridge Banana-Semolina
A Dairy-free Porridge
intended for babies over 6 months of age, whose diet should include various cereals, including wheat. The grains used in the production of HOLLE porridge are wholly milled, thanks to which they have retained optimal amounts of protein, carbohydrates, fats, vitamins and minerals. It is made of plant ingredients derived from biodynamic farming.
HOLLE Organic Fruit Porridge Banana-Semolina
Appropriate for children over 6 months of age.
Made from Whole Grain Wheat.
Pleasant, mild Banana Flavor.
Can Be Served Hot or Cold.
Easy to prepare, just pour milk or water over it. It does not require cooking.
A Delicate Cereals - Easy to Chew - Perfect for the first attempts to eat with a spoon:)
Dairy Free.
Free of Added sugar, Preservatives, Artificial Colors and Flavors.
Organic Farming product - Demeter certified - The Strictest Criteria for bio-dynamic farming.
ORGANIC, Strictly Controlled INGREDIENTS:
Demeter wholegrain wheat flakes*** 50%, banana purée* ** 50%, thiamin (required by EU law)
* from organic farming
**  The sugar content is solely due to its natural occurrence in the fruit
***biodynamic quality
NUTRITIONAL VALUES : (in 100g) :
The energy value is 1518 kJ - 359 kcal / Fats 2.3 g - including saturated 0.6 g / Carbohydrates 69.8 g - including sugars 15.5 g -of which starch 34,4 g / Fiber 9.5 g /Protein 9.9 g / Salt 0.02 g / Thiamin (vitamin B1) 1.57 mg
There is About 10 Servings in a Package
Expiration Date: 11/06/2023