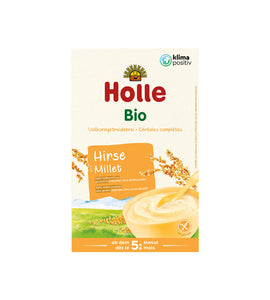 HOLLE Organic Millet Porridge
Gluten-free
 with a new composition, for children over 5 months of age. Pure millet without the addition of other grains is one of the healthiest meals that mankind has known for centuries.
Millet grains contain extremely easily digestible and nutritious ingredients, making it an excellent meal for a child who starts eating something other than milk for the first time.
The Goodness of The Millet Grains is gently unlocked with heat and moisture which ensures the presence of all ingredients that are contained in the grains, including fiber, making it ready for your baby's growing body.
The composition of the ground millet is supplemented only with valuable vitamin B1 (thiamine) in accordance with the latest recommendations of pediatricians.
HOLLE Organic Millet Porridge
Appropriate for children over 5 months of age.
Made from Organic Millet - Bio Class.
Can Be Served Cold or Warm with or without milk.
Easy to prepare. Immediately ready to eat - just pour warm water or milk over it.
Delicate and Easy to Chew.
Perfect evening meal to help with first attempts to eat with a spoon:).
Gluten Free.
Dairy Free.
Free of Added sugar, Preservatives, Artificial Colors and Flavors.
Organic Farming product - Demeter certified - The Strictest Criteria for bio-dynamic farming.
ORGANIC, Strictly Controlled INGREDIENTS:
Wholegrain millet flour* 100 %, thiamin (required by EU law)
* from organic farming
NUTRITIONAL VALUES : (in 100g) :
Energy value (kJ / kcal): 1672 - 396 / Fat (g): 3.9 of which saturated fatty acids (g): 0.6 / Carbohydrates (g): 76.4 of which sugar (g): 0.7* / Protein (g): 11.8 / Salt (g): 0.006 / Vitamin B1 - Thiamine (mg): 1.285 * only contains naturally occurring sugars
There is About 10 Servings in a Package
Expiration Date: 10/13/2023