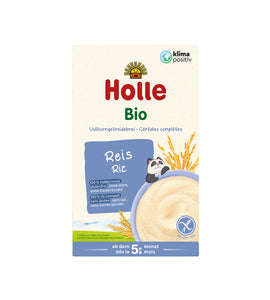 HOLLE Organic Rice Porridge
Gluten-free
rice porridge made of wholegrain rice flour, produced from organic ingredients, is a wholesome, filling meal for your baby. 
The Nutritional Value of the Rice Grains has been known for a long time and highly appreciated already in ancient worlds.
Rice is a Source of Energy, Perseverance and Peace of mind at the same time. And childhood is the period in human life during which we have the most curiosity and we should feel as much vitality as possible to be able to discover the nooks and crannies of the world around us. Holle porridge is an excellent meal for children over 5 months of age. It can be combined with both vegetable dishes and fruit.
Rice porridge has an Extremely Delicate and  Delicious Taste perfect for a Good Day and a Quiet Night
The composition is supplemented only with Valuable Vitamin B1 (thiamine) in accordance with the latest recommendations of pediatricians.
HOLLE Organic Rice Porridge
Appropriate for children over 5 months of age.
Made from Wholegrain Rice Flour.
Can be served both with milk and with water, hot or cold.
Delicate and Easy to Chew.
Perfect meal to help with first attempts to eat with a spoon:).
Ideal for a good morning and a quiet night meal
Gluten Free.
Dairy Free.
Great Source of Energy
Free of Added sugar, Preservatives, Artificial Colors and Flavors.
Organic Farming product - Demeter certified - The Strictest Criteria for bio-dynamic farming.
ORGANIC, Strictly Controlled INGREDIENTS:
Wholegrain rice flour*, vitamin B1 (required by EU law)
* from organic farming
NUTRITIONAL VALUES : (in 100g) :
Energy value (kJ / kcal): 1648/389 - Carbohydrates: 80.4g of which sugar: 0.8g* / Fat: 3.4g of which fatty acids: 1g / Protein: 7.8g / Fiber: 3.1g /sodium: 0.005g / Thiamine 1.24mg (Vitamin B1 -required by EU law).
  *contain ONLY naturally occurring sugars
There is About 10 Servings in a Package
Expiration Date: 04/12/2023