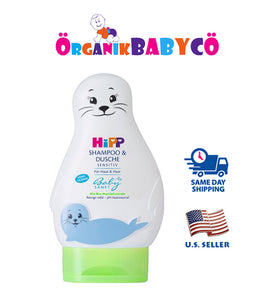 HiPP Babysanft Sensitive Body and Hair Cleansing Gel does not contain soap, so it is gentle on the eyes and does not cause tearing. After washing, hair is easy to comb and is soft and smooth. The Seal Gel is suitable from the first day of life .
Created to Minimize the Risk of Allergies : Without paraffin, NO fragrances considered allergenic - in accordance with the law, NO essential oils, NO soaps, NO parabens, NO silicones, NO dyes, NO animal raw materials.
It Gently Cleanses while preserving the natural protective layer of the epidermis.
HiPP Babysanft Sensitive Body and Hair Washing Gel:
Is suitable from the first day of life.
It is 3in1 Product - Washing Gel, Shampoo and Hair Conditioner in one
Is Especially Gentleon the scalp.
Contains Organic Almond Extract.
It is also Well Tolerated by Very Sensitive and Atopic Skin.
It Doesn't Sting the Eyes.
pH neutral for the skin.
Makes hair Easier to Detangle
It Protects Baby's Sensitive Scalp from the very first bath.
Without Microplastics.
VEGAN - without ingredients of animal origin
Ingredients: Aqua, Hydrogenated Starch Hydrolysate, Cocamidopropyl Hydroxysultaine, Coco-Glucoside, Glycerin, Sodium Lauroyl Sarcosinate, Sodium Chloride, Glyceryl Oleate, Panthenol, Guar Hydroxypropyltrimonium Chloride, Prunus Amygdalus Dulcisolium, Citrate Extract, Sodium Amygdalus Dulcisolium Extract, Sedenus Amygdalus Dulcisolium Extract. Acid, Parfum.