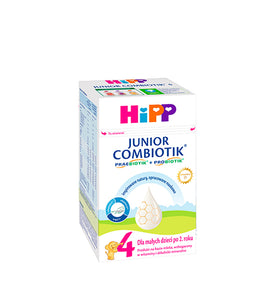 HiPP 4 COMBIOTIC JUNIOR is created for children after 2 years of age.
Its composition is made to adapt to the nutritional needs of children during the period of intensive growth. Bone mass is built, and therefore the small bodies especially need calcium and vitamin D.
Small children have different nutritional needs than adults. These needs change with age, for example, the high fat content in mother's milk is due to the baby's high energy needs at the stage of rapid growth. In early childhood, the need for calories from fat decreases, but with food, you need to provide a large amount of calcium, as well as vitamins and minerals necessary for growth and development. Current research indicates that the usual diet often does not sufficiently cover the specific age needs of children for certain nutrients (e.g. vitamin D, iron or iodine).
The protein and fat content of HiPP 4 COMBIOTIC JUNIOR milk is also tailored to the special needs of young children. It is ideal as a dairy breakfast meal, e.g. with HiPP BIO Multi-grain Muesli, as a supper or just between main meals.
Important information: HiPP 4 COMBIOTIC JUNIOR is intended for children over 2 years of age and should therefore be served in a cup.
HiPP 4 COMBIOTIC JUNIOR:
Praebiotik
Probiotik - Natural cultures of lactic acid bacteria - originally derived from breast milk. Mother's milk contains natural bacterial cultures - their type is an individual feature of each woman.
Contains DHA an omega-3 fatty acid essential for brain development, improved heart health, better vision, and reduced inflammatory response.
Iodine - necessary for proper thyroid function and intellectual development.
Nutrients especially needed during the growth period:
Calcium - important for bone building
Vitamin D - supports the building of bones and teeth, facilitating the absorption of calcium.
For 50 years HiPP has been producing modified milk of the highest quality. HiPP milk formula is based on the results of scientific research so that your child receives everything necessary for healthy development.
HiPP products are created in accordance to strict HiPP quality standards and legal requirements. Only strictly controlled ingredients are used for the production of baby milk HiPP 4 COMBIOTIC JUNIOR Detailed quality controls, accompany all stages of the HiPP milk production process, and are intended to guarantee the safety of you and your baby.
Ingredients: skimmed milk, lactose, vegetable oils (palm *, rapeseed, sunflower), lactose galactooligosaccharides, potassium citrate, calcium orthophosphate, calcium citrate, magnesium sulfate, vitamin C, ferrous sulfate, stabilizer - lactic acid, natural cultures of lactic acid bacteria (Lactobacillus fermentum hereditum **), vitamin A, vitamin E, vitamin B2, potassium iodate, biotin, vitamin D, vitamin B12,
* palm oil from sustainable crops, certified by independent control units,
** Lactobacillus fermentum CECT5716
Certified organic by EU standards
Box design and language may vary depending on the country of origin
NOTE: We recommend always having at least 4 boxes on hand.
INFO: All HiPP Baby Formulas are MADE in Germany, The labeling MAY be DIFFERENT for each country to which it is being distributed.
This baby formula is not expired – the expiration date is 01/22/2024