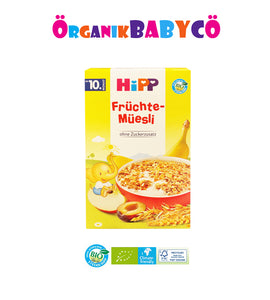 HiPP BIO Multigrain muesli Banana-Apple-Plum:
A delicate cereals - Easy to Chew - Perfect for the first attempts to eat with a spoon:)
Is a delicious and valuable breakfast for babies  and young children.
Is adjusted to the age and nutritional needs of infants and young children
It is also perfect as a morning or afternoon snack or in between main meals.
It contains vitamin B1(required by law in baby cereal in EU - important for the proper functioning of the nervous system.
HiPP BIO mark is a guarantee of:
Over 260 inspections of each product and 60 years of experience in organic farming.
Natural, organic cereal grains - from crops without the use of artificial fertilizers and other chemicals (in accordance with stringent quality and regulations standards).
It is a Product with an ecological certificate - in accordance with EU law.
HiPP BIO Multigrain muesli Banana-Apple-Plum contains valuable, strictly controlled, organic ingredients:
whole grains * and organic cereal flour * 82% (wheat*,oats*, barley**,spelt wheat*,rye*), fruit flakes * 17% (banana *, apple *, plum *), corn flour *, rice flour * , vitamin B1, ONLY NATURALLY occurring sugars, the salt content is only due to the presence of naturally occurring sodium, NO added flavors
* from organic farming, 
** obtained from approx. 58 g of fresh BIO fruit per portion (35 g).