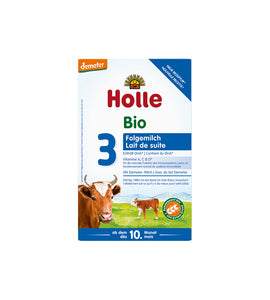 HOLLE 3 MILK BIO - AFTER 10 MONTHS OF AGE :
Baby formula for babies from 10 months of age. 99% of milk ingredients are organic, the remaining 1% are vitamins and minerals necessary for your baby's development and are required by EU regulation.
HOLLE 3 MILK BIO is :
Intended for Children after 10 Months of Age
Contains DHA an omega-3 fatty acid essential for brain development, improved heart health, better vision, and reduced inflammatory response.
Gluten FREE
Contains Vitamins and Minerals
Easy to Digest and Tasty -(No problem when switching from another bay formula)
Contains an Easily Digestible Protein
Can be Served as a Substitute Food
Ingredients from biodynamic farming (Demeter certificate)
INGREDIENTS :
Skimmed milk, powdered whey (partially demineralized), vegetable oils (palm oil, rapeseed oil, sunflower oil), skimmed milk powder, starch, maltodextrin, vitamin C, Calcium phosphate, iron sulphate, vitamin E, zinc sulfate, niacin , CA-D-Pantothenate, copper sulfate, vitamin A, vitamin B1, vitamin B6, manganese sulphate, vit. B2, potassium iodide, folic acid, vitamin K, sodium selenite, vitamin D.
NUTRITIONAL VALUE :
Energy value: 2027kj / 483kcal / 100g Protein: 13.5g / 100g Carbohydrates: 58.8g / 100g  Fats: 21.5g / 100g 
NOTE: We recommend always having at least 3-4 boxes on hand.
This baby formula is not expired – the expiration date is 10/27/2023