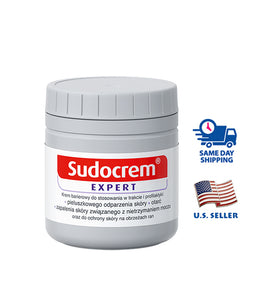 SUDOCREM EXPERT
Sudocrem is a product with 90 years of experience! In 1931, it was created by Irish pharmacist Thomas Smith, who recommended the use of the cream to treat diaper rash, eczema, pressure sores, incontinence dermatitis, and many other minor skin lesions.
Properties of ingredients:
Soothes the skin.

Lanolin - softens and moisturizes the skin.
Zinc oxide quickly soothes irritation.

Supports treatment:

Zinc Oxide Accelerates The Reconstruction of the skin(epidermis).
It has Antibacterial, Antiseptic and Anti-Inflammatory Properties.

Protects the Skin:

Lanolin Acts as an Emollient a protective layer on the surface of the skin that protects the deep parts of the skin against moisture loss.
Zinc Oxide Creates a Barrier Between the Diaper and the Baby's Delicate Skin, reducing the risk of irritation.

HOW TO USE?

Wash your hands both before and after applying the cream.
Remember to apply only a thin layer, as applying more of the preparation will not increase its effectiveness.
Massage the cream in with small circular movements until a thin, transparent layer remains on the skin.
Leave it for a while to absorb.
Use as often as necessary.
Do not put any leftover cream back in the container.
<.