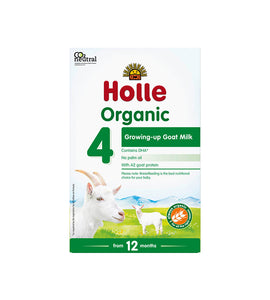 HOLLE Organic GOAT MILK Stage 4
is specially formulated for the dietary needs of babies from 12 months of age until the end of the third year of life as part of a mixed diet.
It is believed that GOAT'S MILK is easily digestible, richer in oligosaccharides, it is a natural probiotic and has other nutrients than cow's milk, and the structure of its proteins is more like mother's milk.
It is great alternative to traditional cow's milk formula for babies.
Thanks to traditional agricultural methods of obtaining raw materials, the production of HOLLE GOAT MILK leaves an excellent taste of the formula and is rich in natural nutrients.
The milk can be easily prepared without cooking - it can be eaten alone or used to prepare cereals, drinks or desserts. The product does not contain gluten or crystal sugar.
HOLLE 4 GOAT BABY FORMULA:
Contains DHA an omega-3 fatty acid essential for brain development, improved heart health, better vision, and reduced inflammatory response.
Suitable from 12 months of age
Contains a Complex of Essential Nutrients
Excellent, Natural Taste
NO Gluten and NO added sugars
Ingredients from biodynamic farming (Demeter certificate)
Easy preparation
Supports the natural bacterial flora of the intestines.
It supports digestion.
Contains natural vegetable oils - rapeseed and sunflower oil.
With bone-building vitamin D.
Strengthens the body's immunity.
It provides a dose of energy necessary for growth and development.
It is perfect as an independent, additional meal.
It is suitable as a base for the preparation of porridges.
The perfect addition to the diet of small children.
INGREDIENTS:
Whole goat milk powder* 39.8%, maltodextrin*, vegetable oils* (sunflower oil*, rapeseed oil*), starch*, lactose * , calcium hydroxide, calcium citrate, C. Cohnii oil (algae oil), L-cysteine, calcium carbonate, magnesium chloride, vitamin C, L - tryptophan , L-tyrosine, sodium citrate, sodium chloride, ferric lactate, vitamin E, ferrous sulfate, zinc sulfate, niacin , pantothenic acid, copper sulfate, vitamin A, thiamine (vitamin B1), vitamin B6, folic acid, riboflavin, vitamin B2, manganese sulfate, potassium iodide, vitamin K, sodium selenite, vitamin D3, biotin, vitamin B12.
NUTRITIONAL VALUE:
Nutritional value in 100 ml of consumed liquid: Energy value (281 kJ / 67 kcal) / Fat 3.5 g of which (saturated fatty acids 1.3 g, monounsaturated fatty acids 1.6 g, polyunsaturated fatty acids 0.5 g, linoleic acid 475 mg, alpha-linolenic acid 50 mg, DHA 14 mg) / carbohydrates 7.6 g of which (sugars 3.3 g, lactose 3.2 g, starch 1.1 g) / protein 1.5 g / vitamin A 65.2 µg RE/ Vitamin D 1.7 µg/ Vitamin E 1.8 mg/ Vitamin K 5.7 µg/ Vitamin C 12 mg/ Vitamin B1 0.054 mg/ Vitamin B2 0.074 mg/ Niacin 0.40 mg/ Vitamin B6 0.041 mg/ Folic acid 13.5 µg/ Folate 22.4 (µg DFE)/ Vitamin B12 0.17 µg/ Biotin 2.2 µg/ Pantothenic acid 0.39 mg/ Potassium 82.2 mg/ Chloride 79.9 mg / Calcium 74.6 mg/ Phosphorus 42.9 mg/ Magnesium 6.86 mg/ Iron 1.1 mg/ Zinc 0.48 mg/ Copper 0.048 mg/ Manganese 0.0066 mg/ Fluoride 0.0053 mg/ Selenium 2, 5 µg / Iodine 15.2 µg / Sodium 20 mg.
NOTE: We recommend always having at least 4 boxes on hand.
This baby formula is not expired – the expiration date is 09/22/2023