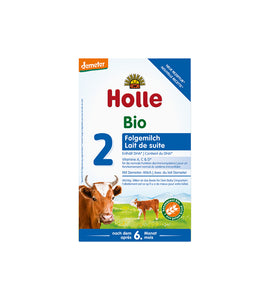 HOLLE 2 BIO ORGANIC Baby Formula - AFTER 6 MONTHS OF AGE :
Holle Organic Infant Follow-on Formula 2 is made from 99% organically grown ingredients. The milk used in our formula comes from cows raised on biodynamic (Demeter) farms in caring and appropriate environments.
Organic starch derived from corn make the Organic Baby formula creamy and filling. The remaining 1% of ingredients are vitamins and minerals which are necessary for your baby's development and are required by EU regulations. 
HOLLE 2 BIO :  
Contains DHA an omega-3 fatty acid essential for brain development, improved heart health, better vision, and reduced inflammatory response.
Is Easy to Digest and Tasty.
There is No Problem when switching from another Baby Formula.
Can be given as a Substitute Food or as a Supplement to the Natural Mother's Food
Contains Vitamins and Minerals
Contains an absorb-able Protein
Ingredients from biodynamic farming (Demeter certificate)
INGREDIENTS :
Skimmed milk *, powdered whey * (partially demineralised), vegetable oils * maltodextrin *, skimmed milk powder *, starch *, calcium phosphate, calcium chloride, sodium citrate, potassium chloride, calciumcarbonate, vitamin C, iron sulphate, vit .E, sodium chloride, zinc sulfate, niacin, Ca-D-Pantothenate, copper sulfate, vitamins A, B1, B6, manganese sulfate, vitamin B, potassium iodide, folic acid, vitamin K, sodium selenite, vitamin D.
NUTRITIONAL VALUE :
Energy value: 2070kj / 494kcal / 100g Protein: 11.6g / 100g Carbohydrates: 58.7g / 100g  Fats: 23.5g / 100g 
NOTE: We recommend always having at least 4 boxes on hand.
This baby formula is not expired – the expiration date is 10/27/2023