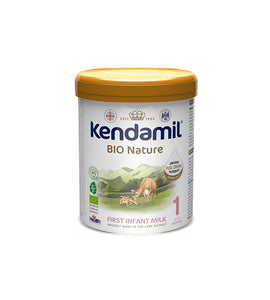 Kendamil BIO Nature Stage 1 an infant formula from the heart of English pastures, perfected for over 50 years. Made from organic whole cow's milk for the natural development of the baby.
Kendamil BIO 1 Preserves what Nature Gives Best with all the benefits that come from consuming whole milk.
The Advantage of Whole Milk compared to skim milk is that it's fuller and has more delicate taste and consistency, it dissolves better and tastes much better for children.
Kendamil 1 BIO  is suitable for children with a sensitive digestive tract, precisely because it is not skimmed.
Kendamil 1 BIO contains all the necessary ingredients that support healthy development of children:
Full Cream Nutrients.
The only source of sugar is Lactose.
Suitable for babies 0 to 6 months if they cannot be fed breast milk.
Contains DHA -  essential omega-3 fatty acids needed for the development of a baby's nervous system.
Contains antioxidants.
Folic acid supporting proper cell division (proper growth and development) and proper neurological development.
Vitamin A to strengthen children's immunity, daylight vision and protect children's skin.
Calcium for healthy baby growth and bone development.
Vitamin B12, which is the key to the proper development of the nervous system.
Iron that contributes to the neurocognitive development of a child.
Zinc is an important ingredient for a baby's growth.
Vitamin D helps you absorb calcium and is the key to bone growth and development.
NO Added starch.
NO GMOs.
NO Palm Oils.
NO Soy.
Ingredients: Organic whole milk, Organic demineralized milk whey protein powder, Organic skimmed milk, Organic vegetable oils (sunflower, coconut, rapeseed), Organic galacto-oligosaccharides (from milk), Calcium citrate, Sodium citrate, Potassium chloride, Calcium lactate, Magnesium chloride, Docosahexaenoic acid, Arachidonic acid, Vitamin C, Potassium hydroxide, Choline bitartrate, Inositol, Taurine, Nucleotides (cytidine-5'-monophosphate, disodium uridine-5'-monophosphate, adenosine-5'-monophosphate, disodium inosine-5'monophosphate, disodium guanosine-5' monophosphate), Iron pyrophosphate, Zinc sulphate, Vitamin E, Niacin, Pantothenic acid, Copper sulphate, Thiamin, Riboflavin, Vitamin A, Vitamin B6, Manganese sulphate, Folic acid, Potassium iodide, Sodium selenite, Vitamin K, Vitamin D3, Biotin, Vitamin B12.
º raw material from controlled organic production (º EU Bio)
Certified Organic by EU standards
NOTE: We recommend always having at least 2 cans on hand.
INFO: MADE in United Kingdom, The labeling MAY be DIFFERENT for each country to which it is being distributed.
This baby formula is not expired – the expiration date is 05/10/2023