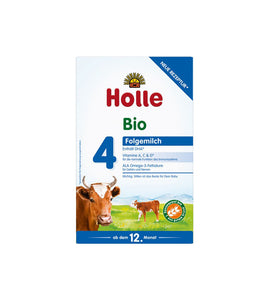 HOLLE 4 BIO ORGANIC Baby Formula - AFTER 12 MONTHS OF AGE :
Holle Organic Infant Follow-on Formula 4 is made from 99% organically grown ingredients. The milk used in our formula comes from cows raised on biodynamic (Demeter) farms in caring and appropriate environments.
Organic starch derived from corn make the Organic Baby formula creamy and filling. The remaining 1% of ingredients are vitamins and minerals which are necessary for your baby's development and are required by EU regulations. 
HOLLE 4 BIO ORGANIC Baby Formula contains Iron and Vitamin C supporting the natural immunity of a young organism, DHA Acid necessary for the proper development of the brain and nervous tissue, and Calcium and Vitamin D that strengthens bones and teeth.
HOLLE 4 BIO :  
Contains DHA DHA for eyesight.
ALA omega-3 fatty acid for the brain and nerves development.
Iodine for proper cognitive development.
Is Easy to Digest and Tasty.
Suitable from 12 months of age to the end of 3 years of age, as part of a mixed dairy or milk-cereal diet.
Suitable after stopping breastfeeding or any other infant formula.
Gluten FREE.
Vitamins C & D for the proper functioning of the immune system.
Ingredients from biodynamic farming (Demeter certificate)
INGREDIENTS :
Skimmed milk *, whey product * (partially mineral-free whey powder), vegetable oils * (palm oil *, rapeseed oil *, sunflower oil *), skimmed milk powder *, starch *, maltodextrin *, calcium carbonate, vitamin C, sodium chloride, potassium chloride, iron lactate, vitamin E, zinc sulfate, niacin, calcium D-pantothenate, copper sulfate, vitamin A, vitamin B1, vitamin B6, manganese sulfate, potassium iodate, folic acid, vitamin K, selenate sodium, vitamin D.
* From organic farming
NUTRITIONAL VALUE :
Energy value: 2070kj / 494kcal / 100g Protein: 11.6g / 100g Carbohydrates: 58.7g / 100g  Fats: 23.5g / 100g 
NOTE: We recommend always having at least 4 boxes on hand.
This baby formula is not expired – the expiration date is 10/23/2023